Hey DIYers! If you haven't come up with your halloween costume this year, this post is perfect for you. Today I'll be showing you 3 DIY Last Minute Halloween Costumes. By Last-Minute, I mean Last Minute!!! These costumes are easy, and cheap. Let's get started!
1. An Avocado!
Who loves guacamole? Avocados? Well then this first costume is perfect for you!
You will need:
- A green shirt that's colored the same color as the "shell" of an avocado
- Light green felt
- Brown felt
- Safety pins
- Scissors
Steps:
1. Using scissors, cut out an avocado shape with the light green felt. (See picture below for an example)
2. Using scissors, cut out a circle that's significantly smaller than the light green felt.
3. Attach the light green avocado shape to your shirt with safety pins.
4. Attach the brown felt to the center of the light green felt using safety pins.
You're done!
2. Snapchat Dog Filter
It wouldn't be Halloween without a little basic-ness! Sorry if my directions are too confusing, btw! :/
You will need:
- A printer
-
This
picture
- Scissors
- Popsicle stick
- Headband
- Glue
- Tape
Steps:
1. Print out the
dog filter picture
on white printer paper.
2. Cut the dog filter out, but for the ears, leave a little bit of white printer paper at the end of the ears, for the next step.
3. Fold the bottom part of the ear over (the white part) so that there is a fold line from the ear and the extra paper at the bottom of the ear.
4. Glue the fold of the ears to the headband! The ear should look like it's sitting on the head of the headband.
5. Glue the dog tongue to the popsicle stick.
You're done! To use this costume, put on the headband, tape the nose to your own nose, and hold of the tongue whenever you want!
3. When Life Gives You Lemons
Halloween Pun Costumes are my favorite type of costumes! This one takes a play on the punny (haha) phrase "When Life Gives You Lemons", and actually makes it literal.
You will need:
- A white t-shirt
- Sharpie
- Lemons
Steps:
1. Using a sharpie, write "LIFE" on the t-shirt.
You're done! You can hold the lemons in your hand on Halloween, and hand them out to people as you see them... BABOOM! When "Life" gives you Lemons!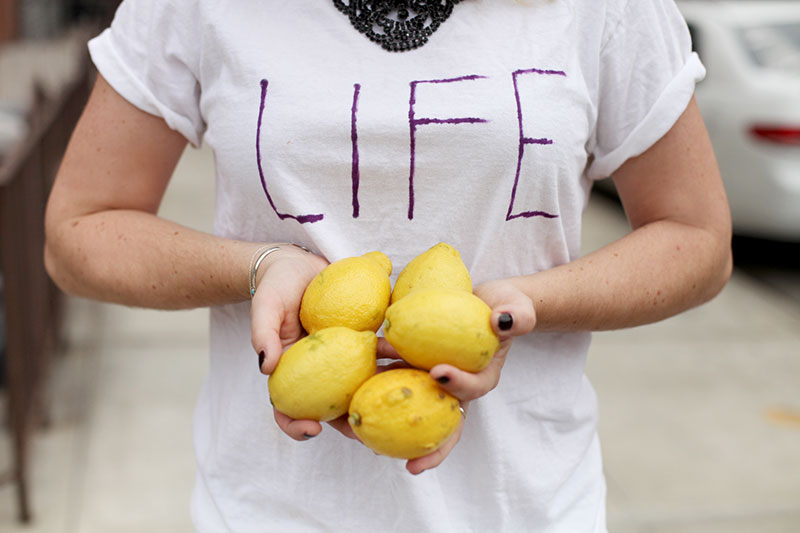 You're done! I hope you enjoyed this DIY tutorial for DIY Last Minute Halloween Costumes 2016! Stay tuned for more DIYs coming soon! Have a great Halloween this year, and stay safe! -Madi from DIY With Madi