Heyyyy DIYers! It's Madi, and it's almost time for BACK-TO-SCHOOL! This DIY School Emergency/Survival Kit is PERFECT to make your school life easier! Let's get started!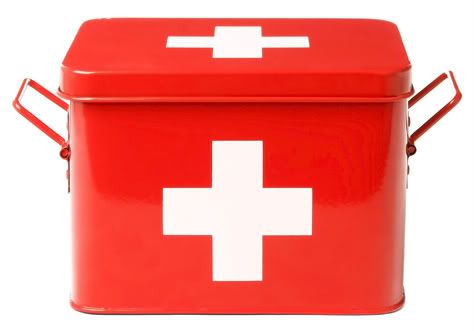 DIY No-Sew Pouch:
What you'll need:
- 1 piece of "6x10" Fabric
- Hot glue gun
- Ribbon
Steps:
1. Fold the 6x10 fabric in half BACKWARDS, so it's like two pieces of 3x5 fabrics, but connected.
2. Glue the sides together, BUT NOT THE TOP!
3. Turn it outside-in.
You are Done with the pouch! To close the pouch up after things are put inside it, use a ribbon to tie up the excess fabric.
--
Now that you have your DIY pouch, I've broken up what goes IN the pouch into a few different groups to make it easier to read and understand.
Hygiene:
Gum or Mints
Travel-sized pack of tissues
Travel-sized tooth brush
Travel-sized tooth paste
Sample size of perfume
Travel-sized deodorant
Travel-sized hand sanitizer (DON'T USE BATH AND BODY WORKS HAND SANITIZER- IT GIVES PEOPLE HEADACHES, AND THEN PEOPLE WILL THINK YOU STINKKKK! I know this from personal experience!)
Feminine Products of your choice
Beauty:
Makeup +brushes of choice (Don't bring tons of makeup +brushes though!)
Lip balm
Travel-sized hand lotion
Oil Blotting Sheets (helps after PE!)
Hairties + Bobby pins
Travel-sized hair comb or brush
Small, compact mirror
Necessities:
Cell phone (OR if you don't have a phone, bring a small, emergency contact book, because you can always use the school's phone...)
Cash ($10 || $5 in dollar bills, $5 in quarters)
Granola Bar (You might get hungry!)
YOU are finished with your Back to School Survival/Emergency Kit!
I hope you enjoyed this DIY! Stay tuned for the next DIY!
-DIY With Madi